CURE INSURANCE ARENA, FEBRUARY 17th, 2024
In the late 1750's, George Washington inscribed a recipe "to make small beer" in the notebook he carried as colonel of the Virginia Militia during the French and Indian war. That's right - our founding father made a pretty revolutionary pint!
Because of that moment in American history, we celebrate our founding fathers presidents' weekend 2024 with a patriotic sampling event featuring over 50 styles from featured craft breweries, wineries, and spirits at the inaugural Red, White & Brew Fest at CURE Insurance Arena in Trenton, NJ on February 17th!
You can party with good old George Washington himself and quench your thirst for freedom with unlimited samples, live music from Nine Deeez Nite, interactive games, contests, and more!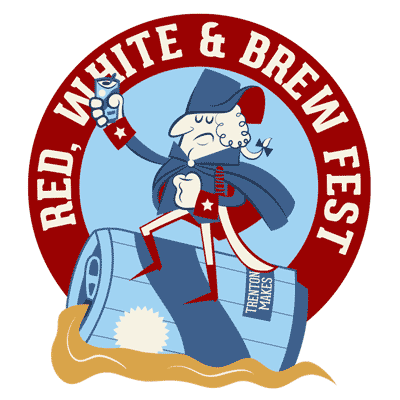 1 Hour of early access* + 4 hours of sampling

1 Parking Pass in Lot #1** 

1 Red, White & Brew Fest T-shirt, 1 Red, White & Brew Fest tote bag

1 Souvenir sample cup

1 VIP Lanyard

1 $10.00 Food Voucher for Concessions***

Designated VIP Area with exclusive style craft brews.
*(12pm-1pm)
**(parking is first come, first serve)
***(must pick-up voucher at inside box office window - not valid on alcoholic beverages)
A full list of event rules & regulations can be found here: https://redwhiteandbrewnj.com/wp-content/uploads/2023/11/Red-White-Brew-Fest-Rules.pdf
 
25% Veterans discounted tickets can be purchased in person at the Box Office only. Must show a valid military ID at the time of purchase. Limit of 4 tickets per person. While supplies last.
 
Groups of 10+ can purchase tickets through the Group Sales Department for a discount of $5.00 per ticket. Pricing will be worked at the original $48.00 + Online Fee costs. The VIP Package is EXCLUDED from this offer.
 
Designated driver tickets are ONLY sold at the Box Office on the day of event. Comes with 1 free soda or water voucher, DD t-shirt, access to the DD Lounge (West Club). While supplies last.
 
Customers can have their coats held at the Coat Check located on the concourse for $5.00 per person.
 
You must be 21+ to purchase a designated driver ticket. Tickets are available regardless of a sell-out. The designated driver MUST be accompanying a paying attendee with a valid ticket present.
 
This is a 21+ event. All attendees must be at least 21 years of age and present a valid photo ID. ID checks will begin 30 minutes to doors opening.
 
The last pour will be 30 minutes prior to the event's end time. No beverages will be poured after this point.
 
Attendees may not leave with any alcoholic beverages; no exceptions will be made.
 
Beer vendors subject to change.
 
1 pretzel necklace allowed into the event per patron. Necklaces will also be available for purchase.
 
By purchasing this ticket and/or attending this event, purchaser and/or attendee forever release and agree to indemnify and hold harmless Press Communications, LLC, CURE Insurance Arena, Mercer County Improvement Authority, Global Spectrum LP, Mercer County, their agents, officers, employees, directors, and sponsors from and for any claim liability, loss or damage caused by or arising out of participation in this event.
©2023 Press Communications, LLC